Getting a taste of Balinese Bali
Every year thousands upon thousands of visitors head to Bali and are entranced by the culture, the temples and cuisine as well as by the beaches. If you're lucky enough to be going in 2019 you might consider planning your visit with one of the cultural events that happen every year.
That way you might get a tiny view of the country in the way the Balinese see it.
March
The day of silence and seclusion or Nyepi, as it is called, is a little like the Day of Atonement in Jewish culture. Most Balinese get off the streets for the day and stay home with family.
The day before is a completely different thing. This is when you can see Bhutakala or giant papier maché ogres paraded through the streets. On the day of Nyepi itself be aware that travel is banned, so plan to stay put wherever you are for the day and relax.
March is also the month for the Bali Spirit festival. This is a sort of mind, body, spirit event which takes place in Ubud every year. There are workshops and classes as well as yogis at almost every level you can imagine it. The workshops are accompanied by health food stalls and a health food fair. It is as if new age came to old Bali because of course these traditions have been going on for decades
.
June – July
The Bali Arts Festival has examples of costume, drama and dance from all of the eight Regency eras. This is a chance to see the Balinese and their culture in all of its glory. After this, there is a month long of exhibitions and displays. Events start in Denpasar's Puputan Renon Square (in front of the Bajra Sandhi Museum).
June – August
Like many of their near neighbors, the Balinese love their kites and have a windy season in which to explore their passion. Situation mostly on the east coast – Padanggalak – you can see kite flying anytime from the middle toward the end of June right through until August.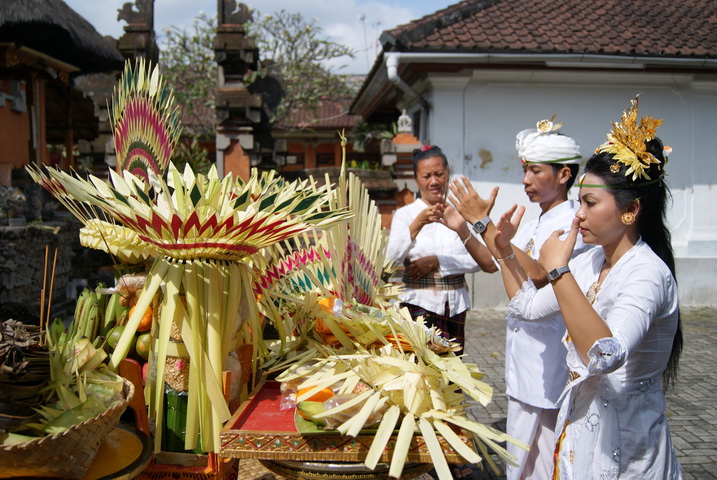 Festivals according to local calendars
Galungan is an annual festival to celebrate the triumph of good over evil. It is especially Balinese and a sight to behold as bamboo poles decked with palm leaf decorations line the streets all over the island.
Bali works on a 210-day calendar – check it out – so Galungan happens twice a year, or twice every eighteen months or so. The festival lasts for about 10 days until Kuningan which follows on ten days later.
If you're determined to see something other than the beach and the ultra-beach ball, then kudos to you. Bali is an ancient country imbued with a rich culture and a warm and welcoming people.
It has distinct and definite seasons so be sure to check out your time of year. If you want to meet a lot of Australians go over our winter months, they seem to be there in numbers during November, December and January, as they take their summer vacation.
Please follow and like us: