Little known Cultural festivals worldwide
Normally when people travel for the holidays, they go to Oktoberfest or to the Running of the Bulls, somewhere where it's popular, crowded, and generally well known. However, for those of us who want to experience the friendship and comradery of going to a different location on a holiday without the crowds, fear not.
Several lesser known festivals give the same feeling with fewer crowds and chaos, while still taking you to a foreign environment to celebrate a holiday and have a good and crazy time. So if that is your cup of tea, then these events are for you.
On this holiday in Spain, parades and fire reign supreme as artists show off massive human effigies that have been built for a year. Often these statues are beautiful and exquisitely done and are shown off with great pride by their makers only to burn down on the last night of the five-day festival.
Parades, the music, and the sound of firecrackers can all cause little sleep, but that's just more of an excuse to get out at night and join the party!
Inti Raymi
This party offers the chance for everyone to praise the sun and live a little in the past in Peru which offers banquets, parties, concerts, and even fake sacrifices to the Incan sun god. The celebrations for Inti and the Incan New Year take nine days before the party moves to an ancient fortress to show off traditional Incan rituals.
This helps native people of Peru to honor the past of the Inca who lived there before them, as well as providing insight into how they lived and worshipped, making this party a must for any history lover.
This might just be the best party ever for those of us who like to get dirty because, for two weeks, Koreans and visitors alike get muddy and dirty with mud races, mudslides, and even mud wrestling all before a mud king is crowned. So seriously, the dirtier you get the better!
In addition, the mud is used to make cosmetics that are sold during the festival, including face creams, lotion, and mud powder. Surprisingly, using mud to clean yourself actually works!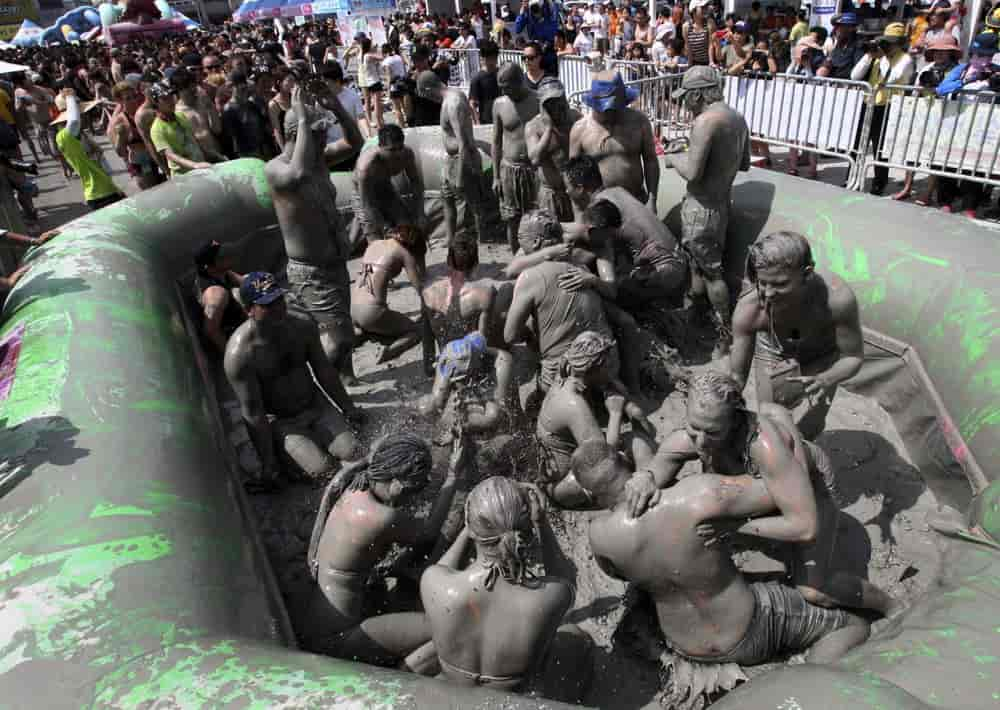 Cooper's Hill Cheese Rolling
A nine-pound cheese wheel, rolling down a large hill at about seventy miles per hour… it can only be the Cooper's Hill Cheese Rolling festival! In the English countryside, this is done in spades as people try to catch the cheese wheels before they hit the bottom of the hill, which is a test for even the fastest athlete!
These are still unknown
Though the publishing of this article might have made them a bit more popular, you can get to these festivals and have fewer crowds and more time to explore and have fun as the party goes on, creating new friendships, memories, and tales for festival-goers to experience. Plus, it's a fun party with fewer crowds to hog the fun, who doesn't enjoy that?
Please follow and like us: